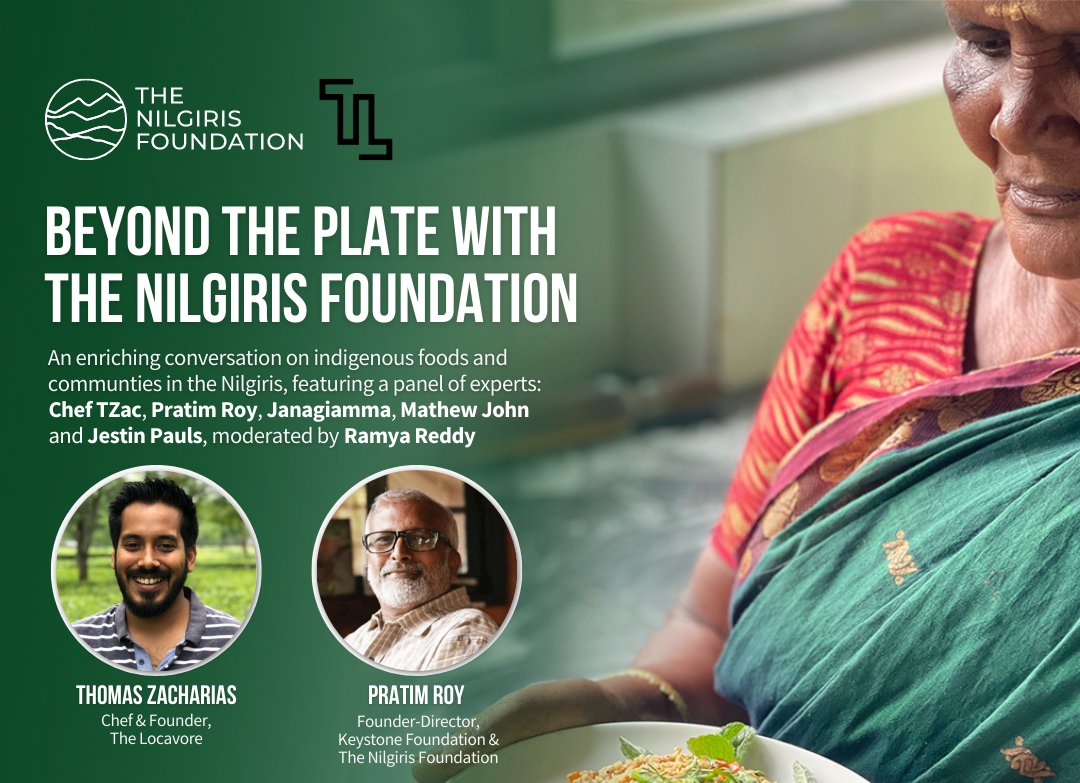 We are really looking forward to a very special webinar, in collaboration with Chef Thomas Zacharias and The Locavore!
"Beyond The Plate With The Nilgiris Foundation" dives deep into why indigenous cuisine should matter to foodies everywhere, and features an amazing panel: Chef Thomas Zacharias, Keystone Foundation's Pratim Roy, Last Forest's Mathew John, Aadhimalai Pazhangudiyanar Producer Company Limited's Jestin Pauls and Janagiamma, moderated by The Nilgiris Foundation's Ramya Reddy (author of Soul of the Nilgiris).
Chef Thomas Zacharias is the founder of The Locavore, an impact-driven platform championing regional cuisine in India. A graduate of the Culinary Institute of America, he is known for an award-winning career spanning some of the best establishments in the world, including the 3-Michelin star La Bernardin (New York City) and The Bombay Canteen(Mumbai).
Pratim Roy is a founder of Keystone Foundation, which has worked in the Nilgiris in indigenous and biodiversity causes for three decades. He is also the Director of The Nilgiris Foundation, where he works on new partnerships, collaborations, advocacy and fundraising.
Janagiamma is a leader from the indigenous Kurumba community and a traditional healer of repute. She is on the Board of Directors of the Aadhimalai Pazhangudiyanar Producer Company, and of Seemai Suddhi, the monthly indigenous newspaper, where she has also been a barefoot journalist.
Mathew John is MD of Last Forest Enterprises, a social enterprise that works with natural produce from the Nilgiris, and is a founder of Keystone Foundation. He is the President of IFOAM Asia, which is an umbrella body of organic movements, and is highly experienced with green and alternative marketing.
Jestin Pauls is the CEO of Aadhimalai Pazhangudiyanar Producer Company Limited, an indigenous enterprise based in the Nilgiris. He oversees all operations of the company, from orders to production and negotiating fair trade price points.
The webinar is on Thursday July 21 st 2022 at 8pm IST / 7.30am PDT / 10.30AM EST. This is a free event.
To register, please sign up here: https://thenilgirisfoundation.org/event/beyond-the-plate-with-the-nilgiris-foundation. A Zoom link will be sent to participants the day before the event.